Bathroom renovation can be an exciting and challenging task. One of the most significant aspects of any bathroom renovation is selecting the right bathtub. Bathtubs go beyond a functional space to soak, unwind after a long day, and offer a luxurious sanctuary in your bathroom. And when it comes to luxury and relaxation, nothing can beat the charm and elegance of a free standing tub. In this blog post, we will delve into the world of free-standing tubs and explore how they can transform your bathroom into a luxurious retreat.
A free standing bathtub is an elegant statement piece that can elevate the aesthetics of any bathroom. These tubs come in a wide range of shapes, styles, sizes, and materials, providing endless options for homeowners to choose. From traditional clawfoot tubs to contemporary designs, a free standing tub can enhance the overall appearance of your bathroom and provide the perfect centerpiece for a tranquil retreat.
One of the most significant benefits of freestanding tubs is their versatility compared to bathrooms that include both a shower and a tub in one. These tubs can be installed anywhere in your bathroom and do not require any wall support, making them an excellent option for homeowners who want to add a touch of luxury to their bathroom without significant construction work. Freestanding tubs are also available in compact sizes, making them perfect for small and large bathrooms alike. We will talk about this more in depth later on in the article.
Freestanding tubs are an ideal addition to a bathroom that's meant for relaxation. The ability to move the tub to any part of your bathroom or place it in the center of your room, surrounded by greenery or artwork, adds an aesthetic appeal. Enjoy your favorite book, meditate or enjoy some uninterrupted alone time in the comforting confines of your luxurious soaking tub, that's designed solely to pamper you.
Freestanding tubs are available in a wide range of materials, from classic acrylic molds to high-end metals such as copper and silver. It's crucial to choose one that best fits your budget and design aesthetic. While an acrylic tub is affordable and lightweight, metal-made tubs are more durable and give a timeless look. Stone-made tubs are also a popular choice as they give a natural and earthy feel to the bathroom.
Freestanding tubs provide an unparalleled combination of luxury and functionality. From their versatility to their design options, to the ability to soak in spacious and comfortable tubs, it's no wonder that freestanding tubs are becoming increasingly popular in modern bathroom design. By incorporating a freestanding bathtub into your bathroom, you can transform your space into a luxurious sanctuary, offering a retreat from the stresses of daily life. Lastly, it's essential to hire a professional contractor who can help you obtain and install the free standing tub of your dreams.
The Benefits of a Freestanding Tub in Your Bathroom
One of the most important elements of designing your bathroom is choosing the right bathtub. While there are plenty of options available in the market, if you're looking for elegance, comfort, and a spa-like experience, a freestanding tub is definitely worth considering. Unlike traditional bathtubs that are mounted on the wall, free-standing tubs stand alone and can be positioned anywhere in the bathroom. If you're still skeptical about choosing a freestanding tub, let us tell you all the benefits that come with it.
Style and Elegance
One of the biggest benefits of a freestanding tub is that it adds style and elegance to your bathroom. Freestanding tubs come in a variety of shapes, sizes, and materials, such as acrylic, copper, and stone. This makes it easier for you to choose a tub that matches your bathroom's design and your sense of style. Not only do freestanding tubs add a sense of luxury to your space, but they also create an inviting atmosphere.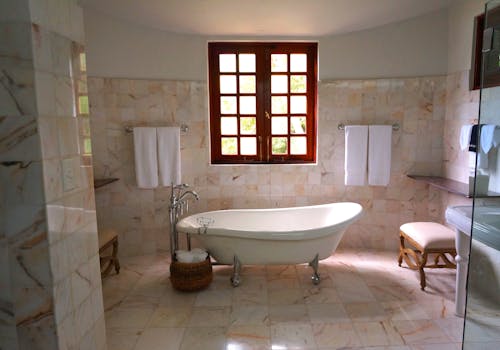 Comfort and Relaxation
Another advantage of freestanding tubs is that they provide an ultimate sense of relaxation and comfort. These tubs are designed to be deeper and wider than traditional tubs, allowing you to fully submerge and immerse yourself in warm water. These tubs are also great for a variety of therapeutic treatments, making them the perfect addition to a spa or a luxurious bathroom.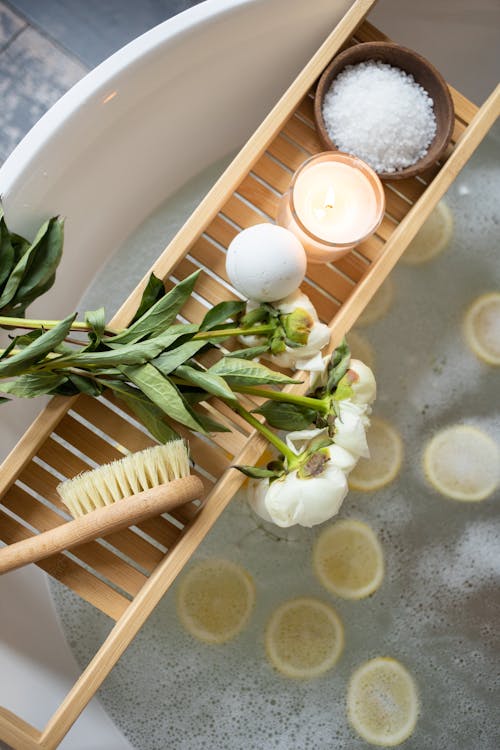 Easy Cleaning and Maintenance
One of the most important factors that people consider when adding anything to their bathroom is how easy it is to clean and maintain. Free-standing tubs are relatively easy to clean and maintain since there are no walls or edges to scrub. Additionally, most free-standing tubs come with self-cleaning features, eliminating the need for harsh chemicals or cleaning solutions.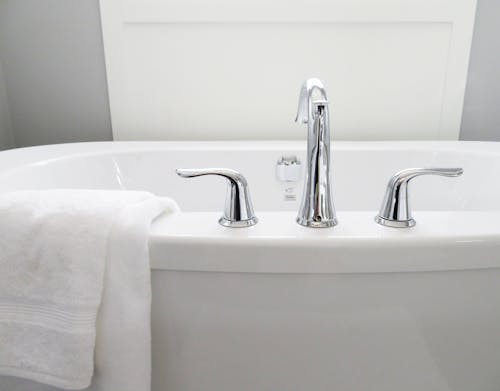 Versatility and Flexibility
Free-standing tubs provide a great deal of flexibility in terms of positioning and placement in your bathroom. Being freestanding, you can position it in a variety of ways, such as near a window or in the middle of the room, depending on the layout of your bathroom. Additionally, you can easily change its position or move it to another part of the bathroom if needed.
Increases Property Value
Lastly, free-standing tubs are known to add significant value to a home. Bathroom renovations are one of the most popular remodeling projects in a home, and adding a freestanding tub can definitely increase the value of your property. It immediately enhances the look and functionality of your bathroom, making it more appealing to potential buyers.
In conclusion, if you are looking for a stylish and luxurious addition to your bathroom, a freestanding tub is definitely a great option to consider. These tubs provide ultimate relaxation and comfort, while also enhancing the overall look of your space. With the flexibility in placement, easy cleaning and maintenance, and increased property value, a freestanding tub is a smart investment.
How to Choose the Perfect Freestanding Tub for Your Home
The bathroom is one of the most utilized rooms in a home, which is why it deserves special attention when it comes to design. One of the star features of a bathroom that can elevate its overall look and feel is a standalone bathtub. Not only are free standing tubs aesthetically pleasing, but they also provide a space where you can relax and unwind after a long day. There are many different types of freestanding tubs to choose from, and with so many options, it can be challenging to decide on the perfect one for your bathroom. Below, we'll look at some of the different types of freestanding tubs and help guide you towards making the best choice for your home.
Acrylic Tub:
Acrylic is a popular material for free standing tubs because it is lightweight and easy to install. Not only is acrylic durable, but it also retains heat well, meaning you can enjoy long, leisurely soaks in your tub. Acrylic freestanding tubs come in many different shapes and sizes, so you are likely to find one that fits your personal style and bathroom decor.
Cast Iron Tub:
If you're looking for a traditional aesthetic, a cast iron freestanding tub is the way to go. These tubs are incredibly durable and heavy, meaning they will serve you well for many years. Cast iron tubs also retain heat well, providing you with a cozy and enjoyable soak.
Stone Tub:
Stone is a luxurious material that instantly adds a high-end, spa-like feel to any bathroom. One of the uniquequalities of a stone free standing tub is that it will continue to look better with age. Stone tubs retain heat well, making them cozy and enjoyable for an extended soak. However, it is worth noting that stone tubs are expensive and require proper sealing and care to maintain their beauty and longevity.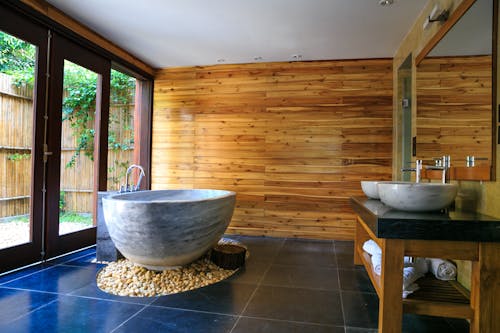 Copper Tub:
Copper free standing tubs have a unique, rustic look that can add character to any bathroom. Despite its non-traditional look, copper is a durable and long-lasting material. Copper tubs hold heat well, so you can enjoy a warm bath for an extended period. However, it is worth noting that copper tubs require regular polishing to maintain their appearance.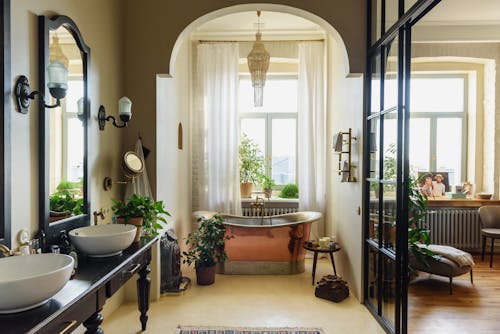 Wooden Tub:
Wooden freestanding tubs are an eco-friendly option that provides a unique, natural aesthetic in the bathroom. Wood retains heat well and has natural insulating properties that make it comfortable to the touch. However, wooden tubs require more care and attention than other materials to prevent mold and mildew.
Each type of freestanding tub has its unique benefits and drawbacks to consider while selecting the perfect one for your home. Whether you opt for the durability and traditional feel of cast iron or the natural, eco-friendly aesthetic of a wooden tub, make sure it fits your budget and lifestyle. A free standing tub is an investment, and choosing the best one for your needs requires thorough research and analysis. With the right tub in place, you can create a space to relax and unwind, making your bathroom feel like a spa retreat.
At MD Sewer and Plumbing, we take pride in providing not only exceptional products but also exceptional customer service. Our team of experts are ready to assist you, from selecting a freestanding bathtub to providing a seamless installation process.