Whether you are renovating your kitchen or just looking to replace an old faucet, there are a few things you need to know before you buy. There are all sorts of kitchen faucets on the market these days, from simple single-handle faucets to more elaborate designs with multiple handles and sprayers. So, how do you choose which one is right for your needs? Keep reading for all you need to know about kitchen faucets!
Types Of Kitchen Faucets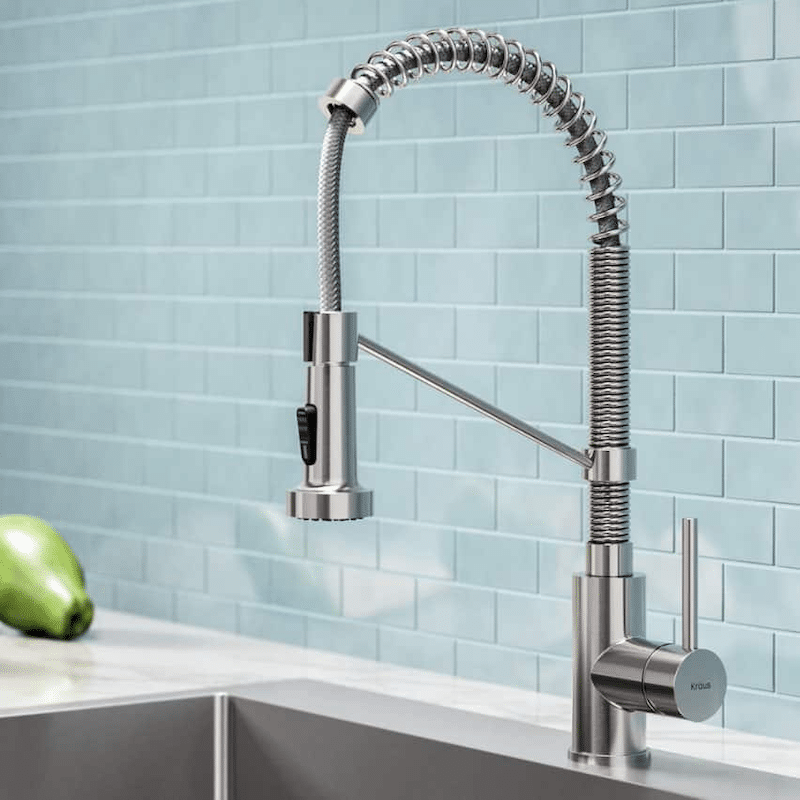 Below, we talk about the most popular options so that you can make an informed decision about which one is right for your kitchen.
1. Pull-Down Faucets: The pull-down kitchen faucet is equipped with a spray wand that pulls down directly into the sink, making it easy to clean dishes, products – or even your new puppy! This type of faucet is also great for quickly cleaning up a messy sink.
Pro tip: When used properly, the pull-down feature can also be used for watering plants!
2. Pull-Out Faucets: The pull-out kitchen faucet has a spray wand that pulls out from the spout, giving you more flexibility in how you use it. This type of faucet is perfect for those who have smaller sinks or need to conserve space. Plus, the pull-out feature makes it easy to reach those hard-to-clean areas.
3. Single or One-Handle Faucets: If you are going for a traditional look, a single-handle faucet is probably your best choice. A one-handle faucet has a single lever that you can move from left to right to control both warm and cold water. The water pressure may be adjusted by pulling the lever up or down. It will take some time to get the water to your desired temperature, and it will usually result in lower accuracy. These kinds of faucets are usually installed in sinks with one hole.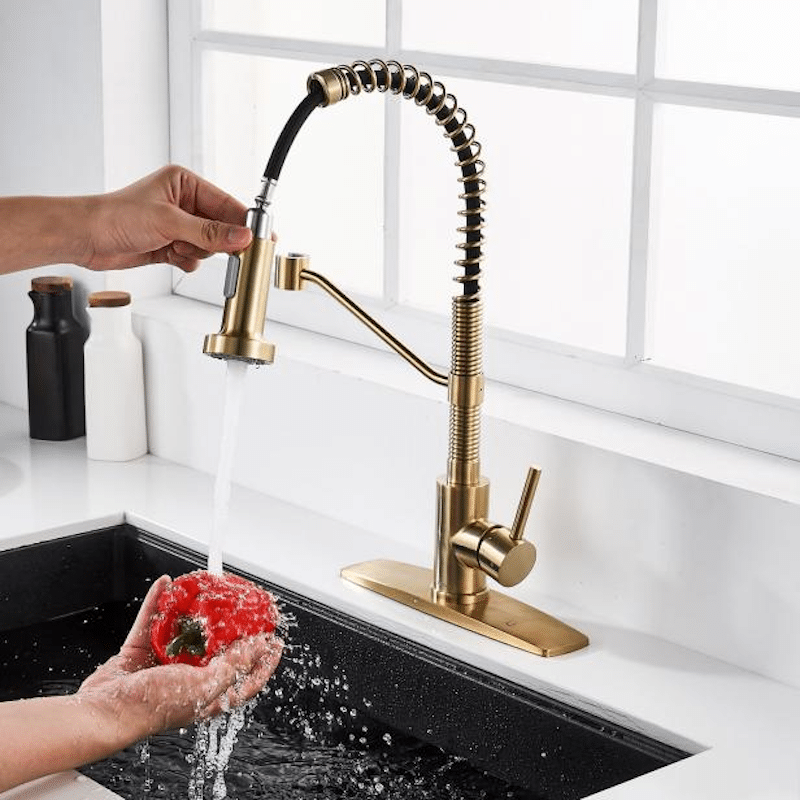 4. Dual Handle Faucet: A dual-handle option has two different levers, one for warm water and cool water. Sometimes these handles can be attached to the same central piece, but they can also be placed a few inches apart from each other. Whichever way it is designed, the handles will always be on the sides of the main tap.
If you want your kitchen to have this type of faucet, be aware that you will need two different water lines – one for hot and one for cold. Additionally, the handles operate differently than what you may be used to; generally, the right handle is for hot water, and the left is for cold. To control pressure, turn the handles towards the center or outer edges.
5. Separate Spray Faucet: If you have a separate sprayer, it will likely be attached to the side of your sink or countertop. The hose connecting the sprayer to the faucet is usually long, making it easy to reach all areas of your sink. Plus, most hoses are equipped with a pause button, so you can control the water flow as needed.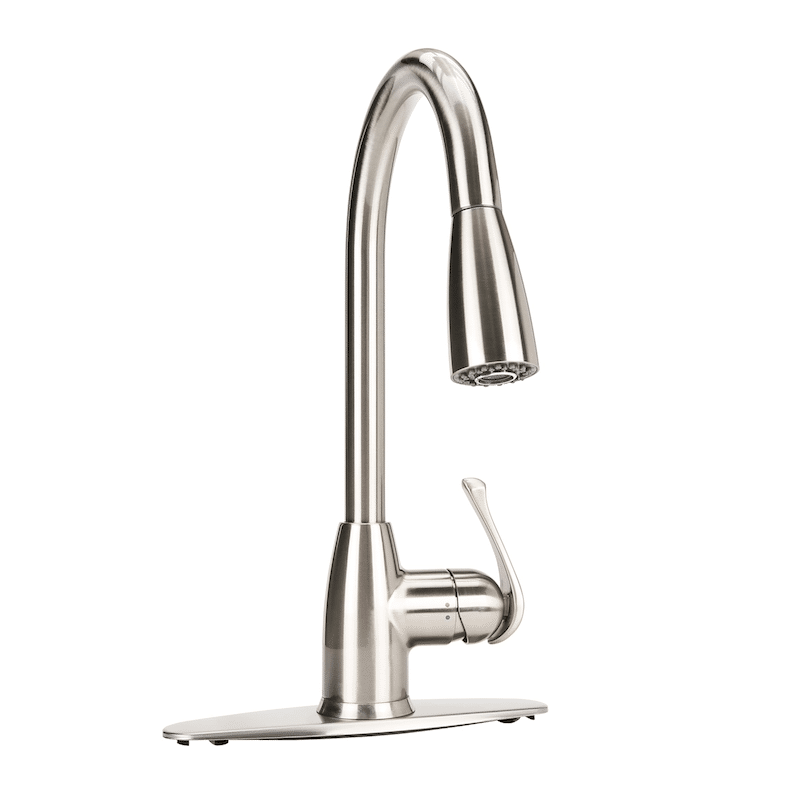 6. Pot-Filler Faucet: A pot-filler faucet is a type of kitchen faucet that is installed near the stove. This is a handy feature if you frequently cook with large pots, as it allows you to fill them directly from the faucet instead of having to carry them to the sink. Plus, most pot-filler faucets have a high arc so that you can easily fill pots without having to lift them too high.
How To Choose A Kitchen Faucet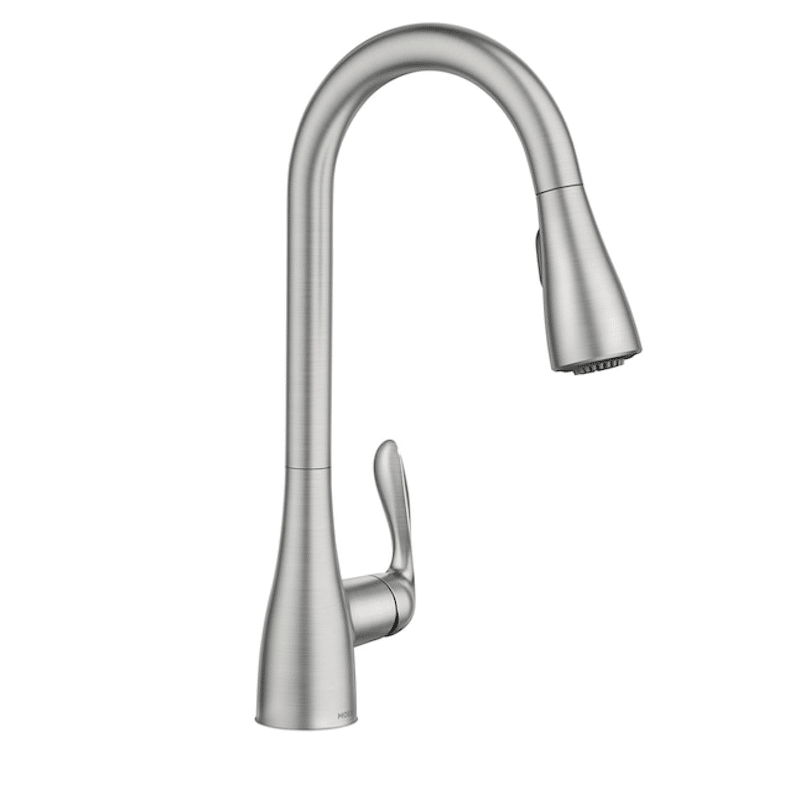 Now that you know the different kitchen faucets available, it's time to start thinking about which one is right for your needs. To help narrow down your search, we've put together a list of five things to consider before making your purchase.
1. Installation Type: One of the first things you'll need to think about is how the faucet will be installed. Make sure to choose an installation type that is compatible with your sink. The most common installation types are deck-mounted and wall-mounted.
If you're unsure which installation type is right for you, just take a look at your sink – if holes are drilled into the countertop, then you have a deck-mounted sink. If not, then you have a wall-mounted sink.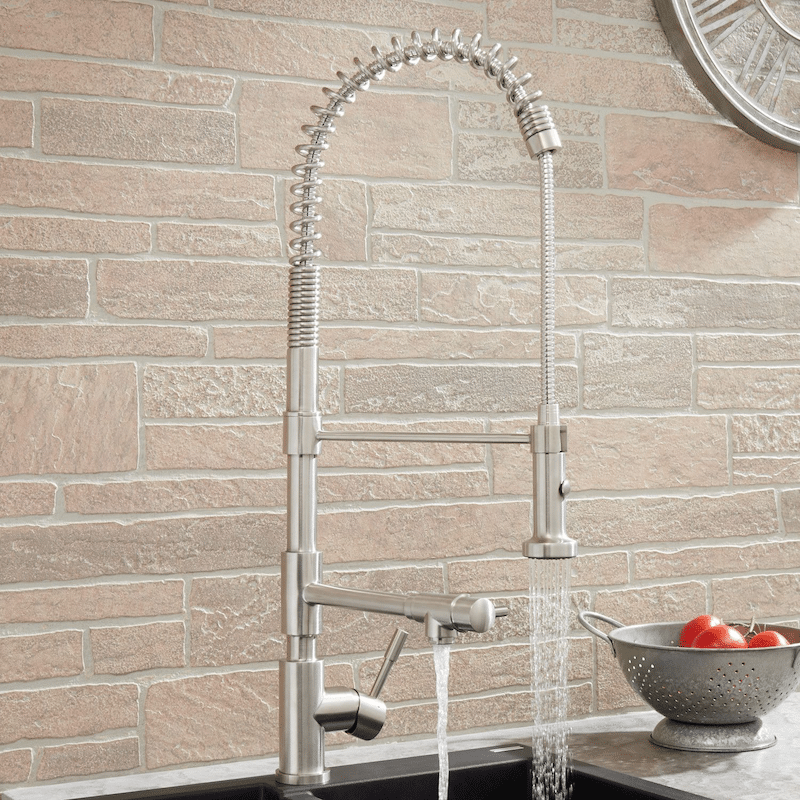 2. Water Pressure: Another important consideration is water pressure. This will largely be determined by the type of faucet you choose, as well as your home's plumbing. Single-handle faucets usually have lower water pressure than dual-handle faucets. And, if you have a separate sprayer, that will also affect your water pressure.
If you're unsure what your water pressure is, you can always ask your plumber or look at your home's water bill. The water company should list the gallons per minute (GPM) used by your home. Most homes use between 6 and 12 GPM.
3. Finish: Another thing to think about is the finish of your kitchen faucet. The most common finishes are stainless steel, chrome, and brushed nickel. However, there are also a few less common options, like oil-rubbed bronze and copper.
The finish you choose should complement the overall style of your kitchen. For example, a stainless steel faucet would be a good choice for a modern kitchen, while a copper faucet would be more suited for a rustic kitchen.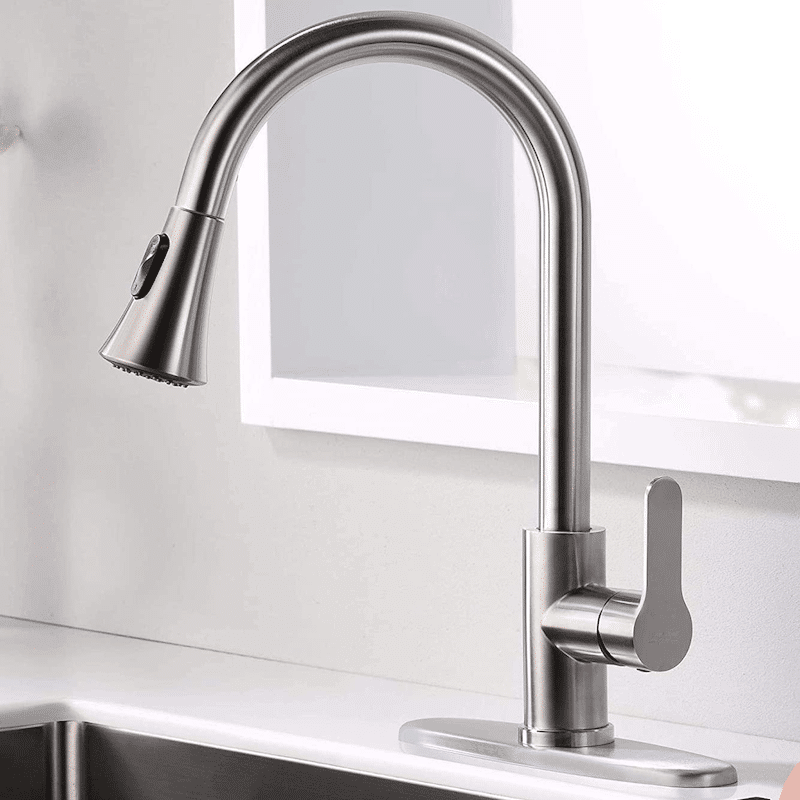 4. Handle Type: As we mentioned earlier, there are several different handle types to choose from. The most common are lever handles and knob handles. Knob handles are generally easier to use, while lever handles offer a more elegant look.
5. Budget: Finally, you'll need to think about your budget. Kitchen faucets can range in price from around $90 to $1,000 or more. The type of faucet you choose will largely determine the price. For example, a simple single-handle faucet will be less expensive than a high-end dual-handle faucet with all the bells and whistles.
Parts Of A Faucet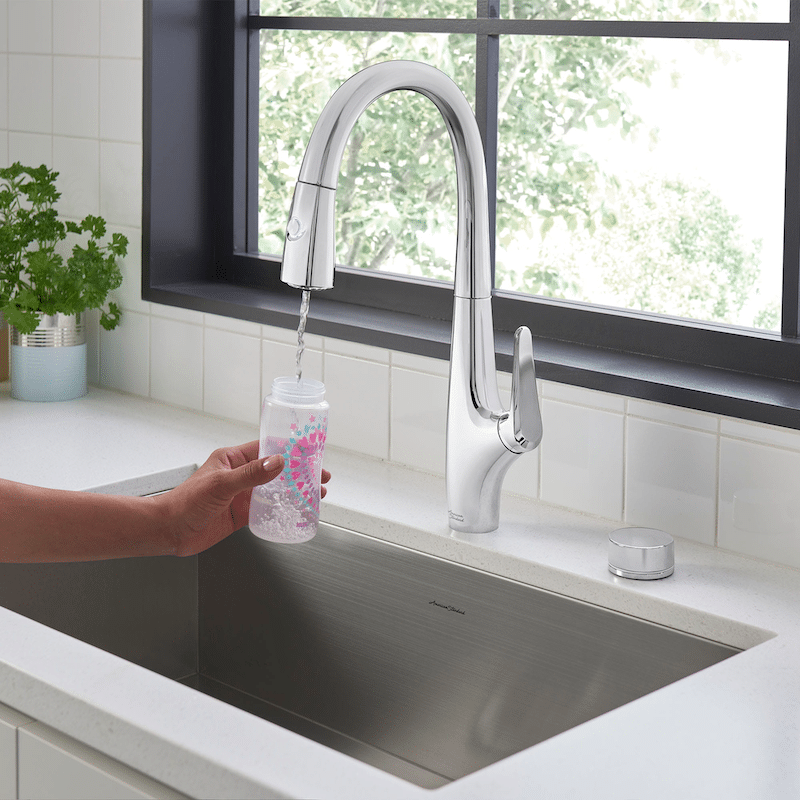 Here are some of the most important parts of kitchen sink faucets:
1. Spout: This is the part of the faucet that the water comes out of. The spout can be straight, curved, or gooseneck-shaped.
2. Handle(s): These are used to turn the water on and off, as well as to adjust the temperature. Handles can be lever-style or knob-style.
3. Hose & Sprayer: Some kitchen faucets come with a separate hose and sprayer. This is handy for filling pots or washing vegetables. The hose attaches to the main faucet body, while the sprayer has its own handle so that you can control the water pressure and direction.
4. Deck Plate: This is a flat piece of metal that covers the unused holes in your sink. It's necessary if you're installing a kitchen faucet with more than one handle.
5. Valves: The valves are what control the water flow and temperature. They're usually located under the sink.
6. Aerator: The aerator is a small screen that fits onto the end of the spout. It's used to mix air and water, which results in a softer, more consistent stream of water.
Best Kitchen Faucets In The Market Today
Here are some of the best kitchen faucets on the market today:
1. Delta Faucet Leland Touch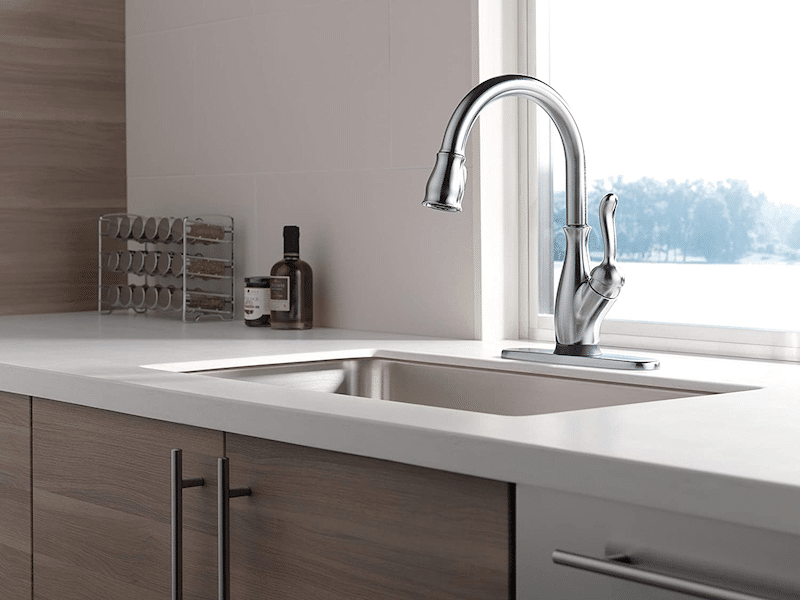 This faucet features easy-to-use Touch2O technology and magnets to keep the spray head docked. An LED light signals water temperature, and there are three different spray modes. If you don't like the brushed stainless finish, choose from chrome, arctic stainless, or Venetian bronze instead.
2. Moen Arbor Faucet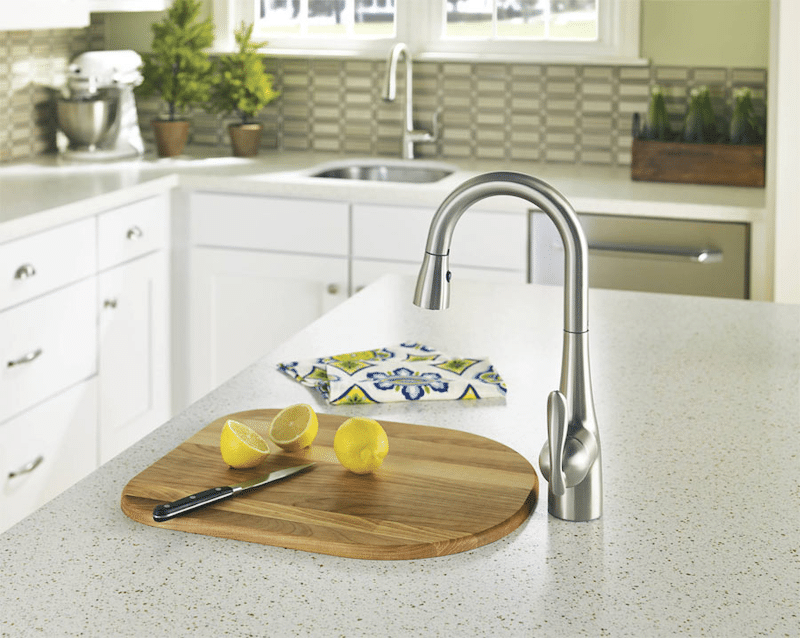 Moen is well-known for creating beautiful, long-lasting goods. The unique feature of the Moen Arbor faucet is the Duralock Quick Connect Installation System, which makes installation quick and simple. It also has a long hose—68 inches long with Reflex technology that bends, pivots, and stretches in all directions without getting tangled or damaged.
Not only does the Arbor control the flow of water, but it offers a boost-stream function for a faster clean and fill with just the push of a button. You can also choose from four different finishes: chrome, stainless steel, matte black, and oil-rubbed bronze.
3. KOHLER Simplice Response Touchless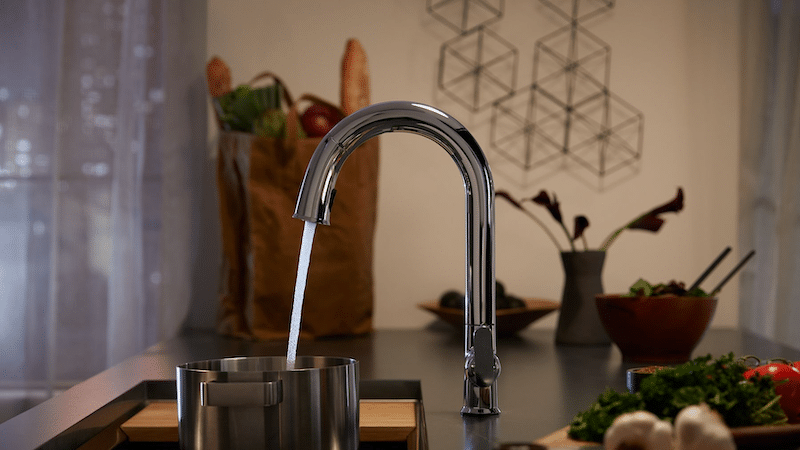 With the Intuitive Response technology, The Simplice Touchless Faucet is more in tune with users than ever before. With just a simple wave of a hand or movement of an object like a pan, the smart faucet turns on or off. But don't worry about false Activations; The sensor is designed to be precise and prevent accidental water spilling.
The Simplice provides many features typically found on more expensive faucets, including a gooseneck design, pull-down spout, magnetic docking system within the spout, and optional power boost for cleaning and filling pots.
Conclusion
When it comes to choosing a kitchen faucet, there are many things to consider. But with so many great options on the market, you're sure to find the perfect one for your needs!
Need a plumber to help install your faucet? Click here to contact us! We are qualified professionals who can help you with all of your plumbing needs.