Do-it-yourself projects can be cost effective and rewarding, but when it comes to plumbing repairs, it's best to leave the work to a licensed plumber. Not only are licensed plumbers trained in their craft, but they also have access to the most up-to-date tools and resources. Here's why you should only hire a professional, licensed plumber for your home's plumbing needs.
Knowledge and Experience
A professional plumber has the training to recognize potential problems before they become an issue. They understand how plumbing systems work and will be able to troubleshoot issues effectively. Additionally, they can perform repairs quickly and accurately, ensuring that your plumbing system is running as efficiently as possible.
Safety First
Plumbing involves dealing with water pressure, gas lines, electrical wiring, and other hazardous materials. A licensed plumber will know how to handle these materials safely while adhering to all local codes and regulations set out by government agencies. DIY repairs might save money initially but could lead to major issues down the line if not done correctly or safely.
Unforeseen Problems
Professional plumbers are prepared for any unexpected problems that may arise during a repair job – something an amateur DIYer probably isn't equipped for. Plumbers are familiar with different types of pipes and fixtures used in homes today so they can easily identify any underlying issues you may have missed or weren't aware of when beginning the project. In some cases, a small repair may turn into a larger (and more expensive) job due to unforeseen problems – this is where having a licensed plumber on board comes in handy!
Time-Saving Solutions
Hiring a professional saves time and energy because they have access to all the necessary tools and supplies that you may not have at home. Not only do they know exactly what materials are needed for each job, but they also know how long each project typically takes. Time is valuable, so having an experienced team taking care of your plumbing needs means spending less time worrying about DIY disasters and more time enjoying your home improvements!
Professional Quality Assurance
Licensed plumbers can offer their clients quality assurance because they have years of experience completing projects successfully. They know which products work best for certain applications, so you don't have to worry about inferior materials being used for your project. Additionally, licensed plumbers are held accountable for their work so if something does go wrong after installation or repair, they will take responsibility and make sure it is corrected quickly and efficiently without extra cost to you!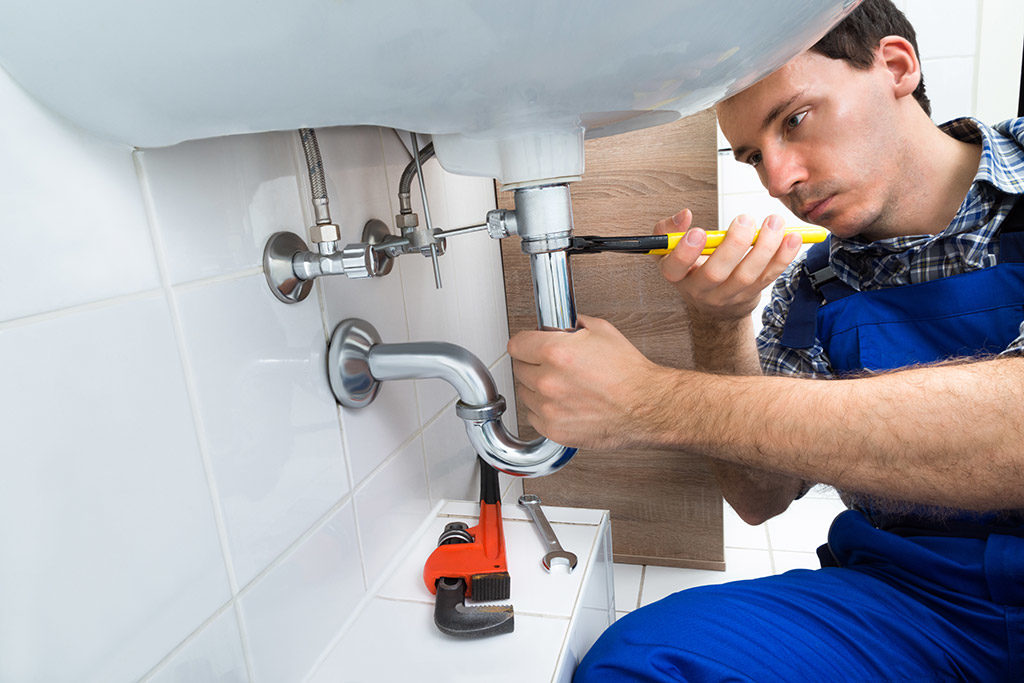 What You Need to Know Before Hiring a Licensed Plumbing Contractor
If you are looking for a plumber to perform a job, you want to make sure that they are licensed and know what they are doing. A licensed plumber is someone who has the qualifications and experience necessary to complete the job properly. But what does it take to become a licensed plumber? Let's find out.
Licensing Requirements for Plumbers
In order to become a licensed plumber, an individual must meet certain requirements set by their state or local jurisdiction. In general, this involves completing an apprenticeship program, the passing state licensing exam, and meeting any other local regulations such as obtaining certifications from the National Institute of Plumbing and Heating Engineers (NIPHE). Depending on where you live, there may also be additional requirements such as having prior work experience or taking continuing education classes.
It is important to note that some states require plumbing licenses in addition to state-specific certification exams. These can include tests such as the Uniform State Plumbing Code (USPC) exam and/or the Journeyman Licensing Exam. The USPC exam covers topics such as safety regulations, design guidelines, technical standards, installation practices, and more while the Journeyman Licensing Exam focuses on business operations and code enforcement knowledge.
Plumbing Safety Practices & Standards
Plumbing contractors must adhere to certain safety practices when performing their work in order to ensure safety for both themselves and those living in the home or building where they are working. This includes wearing appropriate personal protective equipment (PPE) such as gloves and goggles; using proper tools; following instructions from manufacturers; understanding how different systems operate; following all applicable codes; using approved materials; inspecting components for damage before installing them; cleaning up after work is completed; complying with all local laws; obtaining permits when needed; and more. Additionally, all licensed plumbers must be knowledgeable about current plumbing codes so that they can make sure their work meets safety standards.
What Is An Apprentice Plumber?
When it comes to plumbing, the title "apprentice plumber" often carries a bit of mystery. What is an apprentice plumber and why should you consider hiring one? Let's take some time to explore these questions and uncover the benefits of working with an apprentice plumber.
What is a Plumber Apprentice?
An apprentice plumber is someone who has chosen to pursue a career in plumbing by enrolling in a formal program that combines classroom learning with on-the-job training, otherwise known as a plumber trainee. Often, apprentices are sponsored by a professional plumbing business or organization that provides them with real-world experience as they work under the guidance of experienced professionals. A plumber's apprentice will typically do all the work, while journeyman plumbers will supervise. Once their apprenticeship is complete, many apprentice plumbers will go on to have a journeyman plumber license and a master plumber license after taking additional tests and completing continuing education requirements.
The Benefits of Hiring an Apprentice Plumber
Hiring a licensed apprentice plumber offers several benefits compared to hiring a licensed master plumber. Most notably, apprentice plumbers tend to be much more affordable than licensed contractors due to their lack of experience; however, this does not mean that they are any less capable at performing quality work. In fact, a plumbing apprenticeship program requires their students to demonstrate proficiency in both theoretical and practical topics before completing their apprenticeship and before they start to perform plumbing work. This helps ensure that when you hire an apprentice plumber, you are getting someone who knows the plumbing trade!
Additionally, many experienced plumbing contractors use a plumbing apprentice as an assistant when tackling larger projects. This can be especially beneficial if you have multiple projects going on at once since the apprentice plumbers can help manage smaller tasks while the contractor focus on bigger plumbing work. Many times, this arrangement works out very well for clients since they are able get more done in less time while still receiving quality workmanship from professionals at every stage of the project.
Hiring A Licensed Plumbing Contractor Is The Way To Go
No matter what kind of plumbing issue you're facing in your home – from clogged drains or leaking pipes to installing new fixtures – it's always best practice to call on a professional rather than attempting DIY repairs yourself. Licensed plumbers have the training necessary to get the job done right the first time and their experience enables them to identify potential problems before they become bigger issues down the road. Plus, you'll rest easy knowing that all safety protocols are being followed while all local codes and regulations are being met! So when it comes time for your next plumbing project, remember that hiring a professional is always better than going at it alone!

Why MD Sewer and Plumbing Is the Right Choice for Your Plumbing Needs
Are you looking for a reliable and experienced plumbing company? If so, then look no further than MD Sewer and Plumbing. Our team of highly-trained professionals provides superior quality plumbing services to residential and commercial customers throughout the area. We understand that when it comes to your plumbing needs, you want someone who can get the job done right – and that's exactly what we do!
What Makes Us Different?
At MD Sewer and Plumbing, we understand that there are plenty of options when it comes to choosing a plumbing company. That's why we strive to go above and beyond in everything we do. We are committed to providing excellent customer service, from our initial consultation all the way through completion of the job. We take pride in our workmanship, and we are dedicated to making sure each job is completed with precision and care.
We use only top-of-the-line products for all of our jobs. All of our technicians have years of experience in the industry, so you can rest assured that your project is in good hands with us. Furthermore, we offer competitive pricing on all services – so you'll never have to worry about breaking your budget when you hire us!
Our Services
Whether you need help with a simple repair or an extensive installation, MD Sewer and Plumbing is here for you. Our services include drain cleaning, sump pump installation/repair, water heater repair/installation, sewer line repair/replacement, toilet installation/repair, faucet installation/repair, garbage disposal repair/installation and much more! We also offer emergency services 24 hours a day – so no matter what time of day it is, you can always count on us to be there when you need us most.
At MD Sewer and Plumbing, we understand that finding a reliable plumbing company can be challenging. That's why we strive to provide superior quality service at an affordable price point. With experienced technicians using top-of-the-line products combined with our commitment to excellent customer service – there's no better choice than MD Sewer and Plumbing when it comes to handling all your plumbing needs! Contact us today for more information about how we can help make your home or business safe from potential plumbing disasters!